Recently we
informed
readers about the turmoil that arose in the command of the aerospace defense of North America (NORAD), when on August 1, 2019, the naval forces of the Pacific Fleet (Pacific Fleet) of the Russian Navy conducted a demonstration air special operation off the coast of North America. Then two Russian Tu-142 DPSs carried out a 13-hour flight, with elements of refueling in the air and escort by high-altitude fighter-interceptors. And now, NORAD reports on another situation.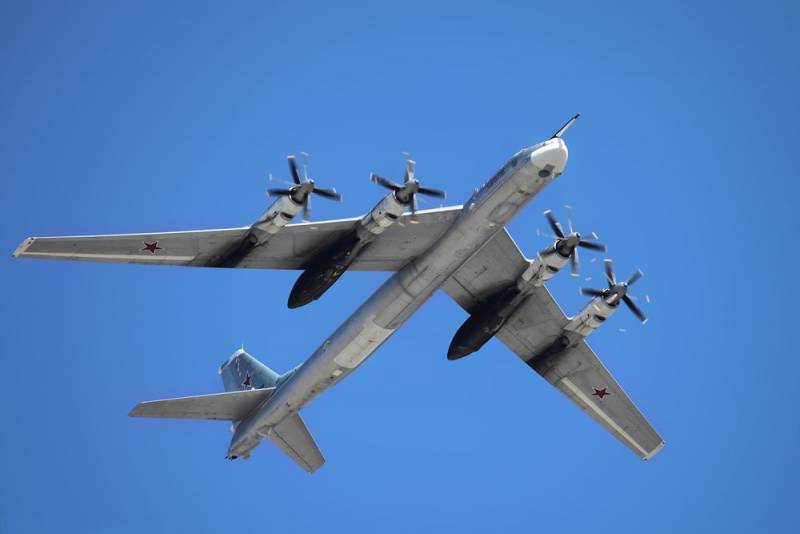 So, on August 8, 2019, NORAD discovered on the approaches to the stronghold of "democracy", near Alaska, two Russian Tu-95 strategic turboprop strategic bomber bomber (NATO codification: "Bear" - "Bear") and sent them to meet an entire squadron of aircraft . NORAD simply could not demonstrate its helplessness and, as last time, show a "hole" in the sky, so they lifted into the air everything that could fly at this moment.
The press service of NORAD said that the alarm was raised: two multipurpose and "absolutely invisible" F-22 "Raptor", two fighter jets McDonnell Douglas CF-18 "Hornet", a long-range radar detection aircraft (AWACS) Boeing E-3 " Sentry "and two tanker aircraft: Boeing KC-135" Stratotanker "and Lockheed C-130" Hercules ". After which the whole crowd began to chase the Russian "strategists" to intercept them.
Russian aircraft remained in international airspace over the Beaufort Sea and never violated the sovereign airspace of the United States or Canada.
- specified in NORAD.
At the same time, the Russian Ministry of Defense confirmed the planned flight of the Tu-95 pair. As emphasized in the Russian military department, this flight took place as part of the large exercises "Ocean Shield - 2019". The specified flight lasted more than 10 hours and was actually accompanied at some sites by fighters of NATO countries.
All flights of aircraft are carried out in strict accordance with international rules for the use of airspace, without violating the borders of other states.
- added to the Ministry of Defense.
We remind you that the exercises "Ocean Shield-2019" were held from August 1 to 9, 2019. They were attended by 49 warships and combat boats, 20 escort vessels, 58 aircraft and helicopters, as well as more than 10 thousand military personnel.