Recently we
Reported
about the situation that has developed on the demarcation line in the Donbass. And now, the Ministry of Defense of Ukraine reported that on August 6, 2019, four marines (marines) died in the Donbas, having received injuries incompatible with life. This happened in the area of ​​the village of Pavlopol, near Mariupol.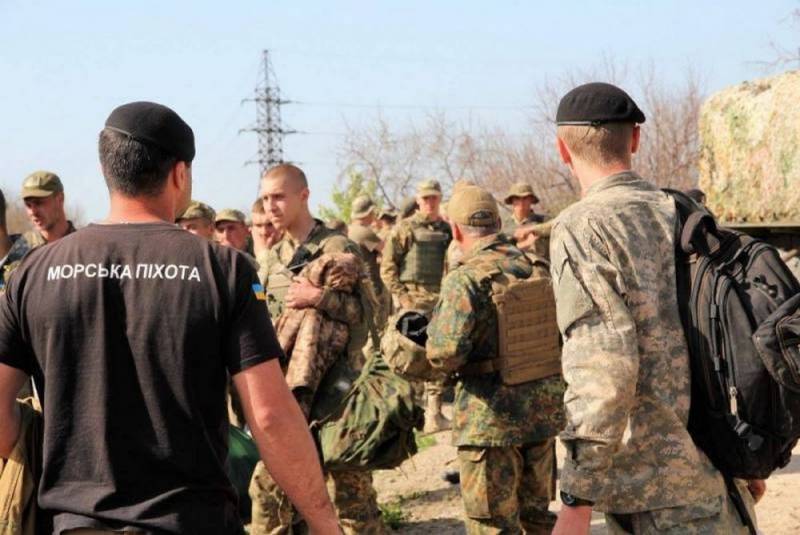 As the Secretary of the National Security and Defense Council of Ukraine, Oleksandr Danilyuk, specified, the dead are the marines of the 36th Separate Marine Corps Brigade (OBRMP, military unit A2802) of the Armed Forces of Ukraine. The incident itself occurred when they carried out the equipment of engineering structures at the position of the platoon-strong point. The marines were allegedly fired from a hand-held anti-tank grenade launcher (RPG).
This flagrant violation of ceasefire agreements will not go unnoticed.
- added Danilyuk, who recalled the truce.
Today, at about 11:00, the positions of our fighters near the settlement of Pavlopol fell under enemy shelling, four of our twin cities received mortal wounds
- confirmed the information in the 36th brigade.
President of Ukraine Vladimir Zelensky also made a statement in this regard. He called on the heads of state of the "Norman format" to get together to resume negotiations on the Donbass.
Four Ukrainian soldiers died near Pavlopol from shelling from a hand anti-tank grenade launcher. The truce lasted 17 days. Today's incident is aimed at undermining not only this truce, but the negotiation process as a whole. Ukraine sincerely seeks peace. And our desire is unchanging. Today the whole world saw who exactly does not want the world.
That is why I urge the leaders of the Normandy negotiation format countries - Emmanuel Macron, Angela Merkel and Vladimir Putin - to get together as soon as possible to resume negotiations
- said in an official statement Zelensky.
It should be noted that before this, the new Ukrainian authorities, led by Zelensky, diligently pretended that they "did not notice" the provocations and shelling by the Armed Forces in the Donbass. In addition, they were indifferent to the regular deaths of their own military personnel. And so, they "have seen" and require negotiations.
Moreover, according to unofficial information from the Ukrainian side, the above servicemen were killed as a result of an error when installing their own mines, near the platoon support point. Consequently, there was no shelling by the DNI.
At the same time, no one is going to stop shelling the settlements of the DPR and LPR, not to mention the withdrawal of troops by at least 1 km. Moreover, the Armed Forces of Ukraine are trying to equip the positions as close as possible to the positions of the People's Militia (NM) of the republics. In this regard, it can be assumed that Zelensky is simply trying to remind himself to light up at the summit, next to world leaders.