Recently we
Reported
about the naval parade in St. Petersburg for the Navy Day, at which Russian President Vladimir Putin promised to build a "unique fleet" for the country. And now, the British publication The Telegraph, referring to its high-level and informed sources, reports that in the UK they are afraid of "silent" Russian submarines, which threaten the safety of Foggy Albion.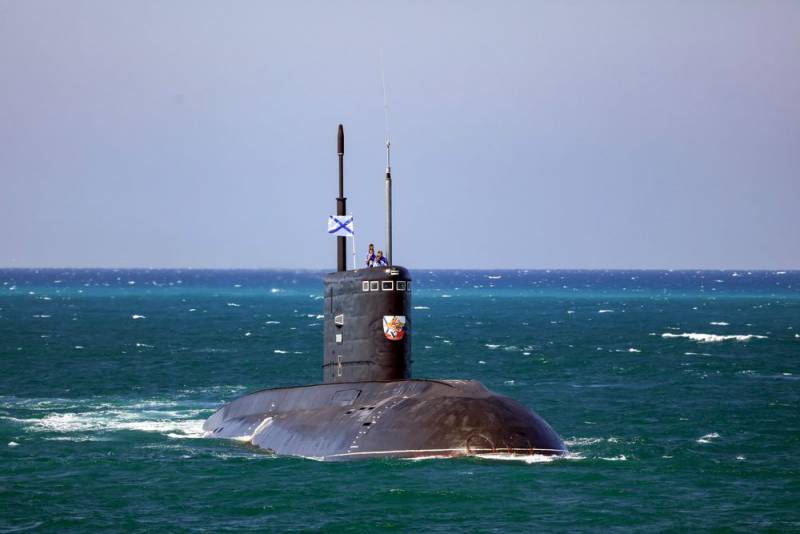 The British military told the publication that now "the Russians are benefiting," because 15-20 years ago, spending on research and development increased sharply. Russia now has super-quiet submarines of Project 636 Varshavyanka (Kilo class according to NATO classification), which may not be visible to the British. In fact, the British military acted in their favorite manner. Once again, they decided to "beg" the taxpayers for money, informing them of the "threat", promising in return protection from the "aggressor".
The British military fears that Russian submarines may quietly track the movements of the British Navy and even connect to various underwater cables. Moreover, the military is confident that the British submarines and even the pride of the Navy, the HMS Queen Elizabeth aircraft carrier, can now become vulnerable. The military claims that at least one of the Varshavyanka in recent months has definitely passed near the European maritime borders. At the same time, however, without giving any specifics. But the military is confident that it was a detection test.
It should be noted that the submarines of Project 636 Varshavyanka are an improved version of the export multipurpose diesel-electric submarines (DEPL) of Project 877EKM. The hull of the submarine is double, with six waterproof compartments. At the same time, the Caliber missile systems are installed on versions 636M, 636.1 and 636.3. In RPD mode, at a speed of 7 knots, it can travel 7500 miles. Autonomy of swimming is 45 days. These submarines can operate not only in coastal waters, but also in the distant sea and ocean zones. The main project was created in the 1970s by the Rubin Central Design Bureau. The construction of Project 636 submarines began in the mid-1990s.