We recently reported on
difficulties
associated with the Russian narrow-bodied medium-range airliner Irkut MS-21 ("XNUMXst Century Mainline Aircraft") and about
plans
Chinese "comrades" on its counterpart - C919, which should not be confused with the joint Sino-Russian wide-body long-range CR929. And now it is reported that on August 1, 2019, the fourth C919 prototype took off in Shanghai, ahead of the course of testing its Russian competitor.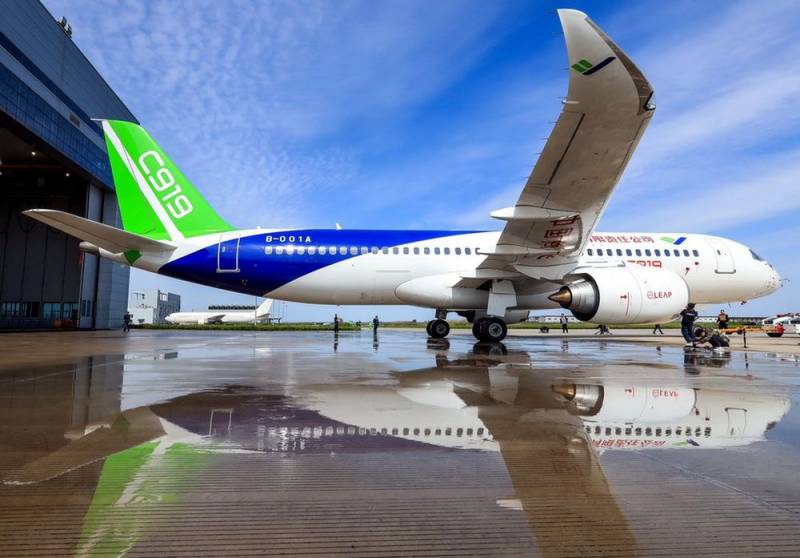 The developer of C919 is the Chinese state corporation COMAC (Commercial Aircraft Corporation of China). It was announced that the fifth prototype C919 will fly into the sky in the III quarter of 2019, and the sixth instance will take off in the IV quarter of 2019. At the same time, COMAC intends to certify C919 in China by the end of 2020, and begin deliveries to customers in 2021.
As reported by COMAS, the company already has a pre-order for more than 700 pieces of C919. The liner will be able to carry from 158 to 190 passengers at a distance of 4075 to 5555 km. At the same time, the official price for one S919 is not called. But experts believe that its cost will be significantly lower than similar products of its main competitors. For example, a Boeing 737MAX costs between $ 72 and $ 120 million apiece, while an Airbus A320neo costs between $ 78 and $ 108 million apiece, depending on version.
It should be recalled that the fourth prototype of the Russian MS-21 is now under construction. His flight tests should begin before the end of 2019. At the same time, the supply of MS-21 with Russian PD-14 engines should be expected in 2022, since the promises to start mass production in 2021 look dubious due to sanctions and repeated postponement from 2017.