On July 30, 2019, the head of the Ministry of Internal Affairs of Ukraine Arsen Avakov broke into a loud Facebook post that the former "guarantor of the nation" Petro Poroshenko was a liar. Avakov accused Poroshenko of lying after the former president of Ukraine stated that the Ukrainian police had been working against his party, European Solidarity, in the early parliamentary elections.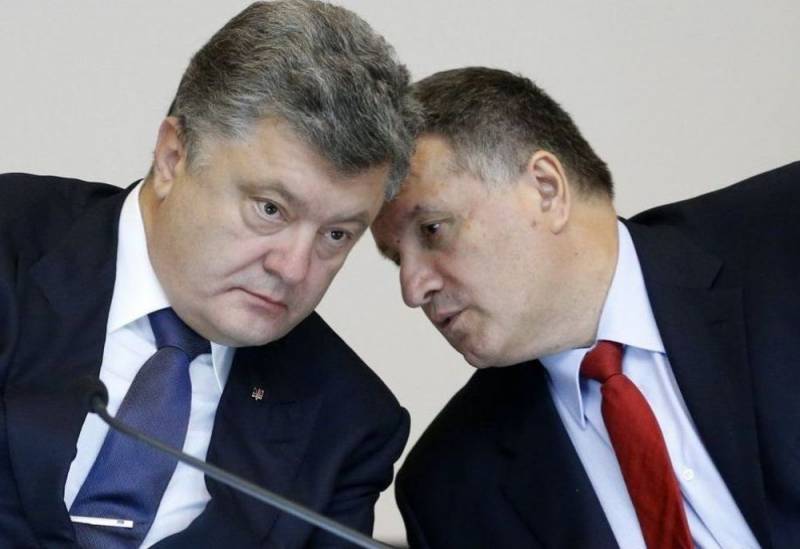 It turns out that Avakov's "truth-seeker" was outraged by the interview Poroshenko gave to the media. In an interview, Poroshenko said that the police created "organized groups like Sharia." It should be noted that the beautiful red balloons of the last six months have really "chased" Poroshenko throughout the country. At any rally where Poroshenko was, people with such balls appeared. This really drove the "father of democracy" to a fury, and he even switched to obscene language. So it is not surprising that Poroshenko could suspect Avakov, because
simultaneously
with the above, radicals from the National Corps chanted "ganba" (shame) against him.
In an interview with Ukrainian Truth, Poroshenko shamelessly lies, justifying his defeat in the election by the fact that "the work of the police" was against him. The police, like the Ministry of Internal Affairs as a whole, did not work for him, but worked for fair elections. We worked for people and for Ukraine! Alas, for Poroshenko to lie - how to breathe, and therefore he loses
- Avakov wrote.
Avakov believes that it was Poroshenko who brought the country to such an unbalanced emotional state that people are ready to believe "any honest person", but not "Poroshenko's liar." In this case, it is difficult to disagree with Avakov, since both the presidential and parliamentary elections were a real protest vote.
However, Avakov describes the obvious, which for some reason he had not noticed before. But there is an explanation for this, because Avakov is just one of those who brought the country to such a state.
At the same time, Avakov very eloquently clarifies that most of the "positive" that has occurred in the country in recent years, has occurred not thanks to Poroshenko, but in spite of him. After that, Avakov began to intensely "wag his tail" in a post in front of the new President of Ukraine Vladimir Zelensky, wishing him every success.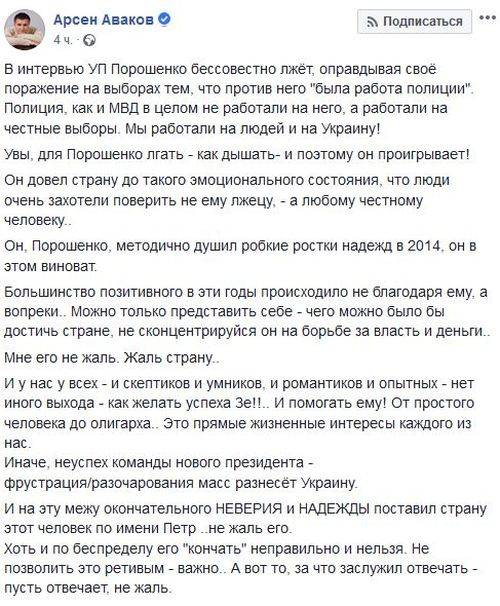 It should be recalled that according to the results of the elections to the Verkhovna Rada of Ukraine (July 21, 2019), the Zelensky party "Servant of the People" received a stable majority in the parliament - more than 250 seats (226 needed). Now Zelensky can create a government from among his supporters and he does not need to block or negotiate with someone, including Avakov.