The denouement in the case of the construction of the Nord Stream 2 gas pipeline is close. A subsidiary of Gazprom in Europe has filed a lawsuit demanding to cancel discriminatory amendments to the EU's Third Energy Package, which threaten to leave the pipe half empty. The next will be a lawsuit against Denmark, which has become the last obstacle on the way of the Russian-German project. Will lawyers succeed in what
politicians
?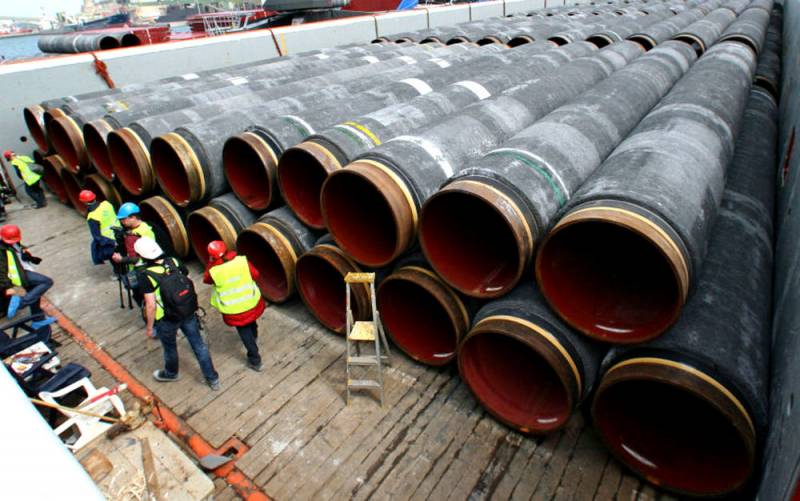 As you know, Nord Stream-2 should begin to supply Germany with at least 55 billion cubic meters of gas annually. After a terrible radiation accident at the Japanese Fukushima-1 nuclear power plant, a real "green revolution" has begun in Germany, about which we are detailing
told earlier
. The Germans are gradually abandoning their nuclear power plants and coal-fired power plants, switching to renewable energy sources and clean gas generation. That is why you can be sure that Berlin will not surrender Nord Stream-2.
Another issue is that Washington intends to supplant Russian gas with its LNG. "Democratic molecules" are more expensive, because the Germans do not really succeed in "striking" it with market methods. That's why all these crises are being created in Ukraine, acting as a transit country, the Kingdom of Denmark expresses "its dissenting opinion", and pro-American European officials put sticks in the wheels of the pipeline, frankly for political reasons, putting it under the Third Energy Package.
What can a Russian monopolist do to defend his interests?
Amendments to the Third Energy Package were made and adopted when Nord Stream-2 was at an advanced stage, several billion euros have already been invested in it. According to the new rules, which completely changed the rules of the game, the gas sales and transportation business should be divided, and some other companies should have access to the pipe. The Russian side cannot fulfill these requirements, because Gazprom is a monopolist, and no other suppliers are expected for the pipeline.
This means that the project is automatically cut to half its capacity. Of the two pipes, only one can be filled, respectively, the payback period is at least doubled, and consumers will not receive the planned fuel volumes. The lawsuit filed by Nord Stream 2, Gazprom's European division:
It would be unjust and unfair for the EU to draft amendments to the Gas Directive in such a way that they would significantly affect only Nord Stream-2, while freeing other offshore pipelines supplying gas to the EU from the implementation of these rules.
The next lawsuit should be a claim against Denmark. She has been dragging the filed applications for laying the pipeline for years, but at the same time she gave permission to build the Baltic Pipe gas pipeline to Poland only six months after submitting the documents, which we also
already told
. There is clear discrimination. In October, six months will elapse from the moment of filing the third, and, obviously, the latest application from Gazprom. Then either Copenhagen meets, or a trial is due, where the chances of the Danes are slim.
Despite all the obstacles, the gas pipeline will be completed. Not only Russia needs it, but Europe itself too, no matter how it tries to portray obedience to the United States. Political expediency is good, but when European businessmen offer Americans to compensate for their losses in case of refusal of Nord Stream-2, they make a "face with a brick" and talk about "protecting democracy". This is not serious, but in the Old World they are also good at counting money.