Over the past five years, Ukrainian citizens have not ceased to describe the "achievements" of Euromaidan in their country. At the same time, many really resent
degradation
society, industry and infrastructure.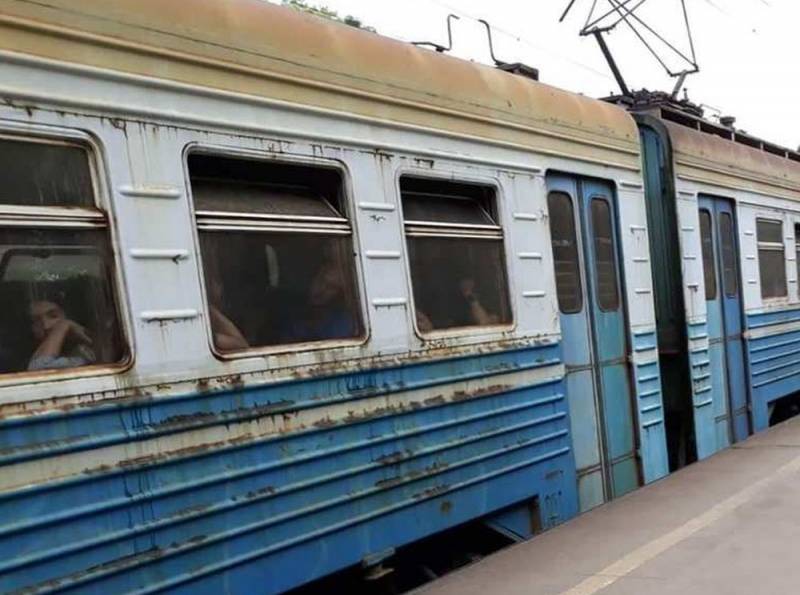 For example, in the summer, when residents of large cities begin to use electric trains more often, and Ukrzaliznytsia takes its "antiques" out of the bins in order to satisfy the demand for the increased public demand for rail services, the "European integration" becomes even more obvious. So, one Kiev woman was indignant in social networks about the train, on which she had to go from Kiev to Kazatin (a small city in the Vinnitsa region), showing a photograph.
Guys, this is real tin! Well, HOW can you carry people to THIS? I haven't been traveling by electric trains for many years, but yesterday we decided to try it. I don't want to try anymore!
Direction Kiev - Kazatin. Poor people who are forced to ride in such cattle trucks every day ...
- indignantly wrote Kiev.
Apparently, she rarely uses electric trains, since most of those who use them daily are already used to this. So the comments of Web users and subscribers were not long in coming.
Calmly, this is a hyperloop. He is just Ukrainian
- one of the commentators noted with sarcasm.
France must replace all suburban and interurban rolling stock, as well as metro trains, by 2022
- wrote another commentator.
It seems that Hyperlop jumped out of the pipe, with ... and the paint flew away from speed
- joked the third.
Have you seen a city train? Even worse
- so commented on the electric trains running in Kiev itself.
The exact same "Kiev-Nizhyn." This is scary and sad, concentration camp ...
- clarified another user.
But the minister railway 1,5 million per month salary
- added another user.
You do not understand, this is the most reliable transport, it will stretch for another 200 years, say thank you for not making a new one from plexiglass
- said one of the subscribers.
You might think that in Kiev minibuses have a better view
- noticed another subscriber.
Why don't they write "Glory to Ukraine"?
- the next commentator tried to find out.
Indeed, is it possible that Ukrzaliznytsia, which takes decent money for travel from people, is not able to paint cars to bring at least their appearance into a more decent condition. That is why the "Europe", which is being built in Ukraine, looks exactly like the train in the photo.