On July 27, 2019, more than 1 thousand people were detained by police officers for committing various offenses in the process of illegal protests in the center of the capital. This was reported by the press service of the Main Directorate of the Ministry of Internal Affairs of Russia in the city of Moscow.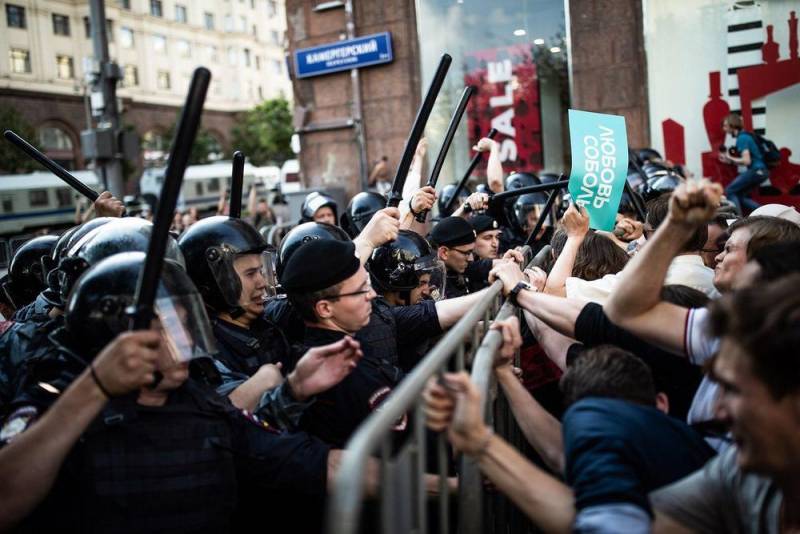 1074 people were detained in an unauthorized rally in the center of the capital for various offenses
- it is told in the message.
Before that, the department reported that about 3500 thousand people took part in the event, which was not authorized by the authorities, of which about 700 were media representatives (journalists and bloggers). At the same time, 295 participants were detained for disturbing public order.
It should be noted that law enforcement officers repeatedly informed the protesters that the event was illegal and warned of responsibility. However, the protesters, having violated the car traffic on the streets of the capital, began to throw pieces of asphalt and other objects at the police, use tear gas against law enforcement officers and try to break the "living chain" that separates the aggressive opposition from other citizens.
The Ministry of Internal Affairs clarifies that a trial will be held in respect of each detainee, after which decisions will be made in accordance with applicable law.
Peaceful protest???? In the USA, what would be the fate of these "peacefully protesting"? pic.twitter.com/PyJSQ2Mckz

- Vladimir Soloviev (@VRSoloviev) July 27th, 2019
We remind you that earlier we
informed
readers about how the opposition blogger Alexei Navalny was detained in Moscow on July 24, 2019. He would be detained for calls to his supporters to go to the rally to support candidates for the Moscow City Duma, who were previously denied registration due to various violations committed by them.