In the city of Berdychiv (Zhytomyr region of Ukraine), a local blogger went and made another report on the life of the population. He had a conversation with one of the residents. In the process of verbal skirmishes, a conflict ensued with the participation of one "ATO hero", a former APU fighter. As a result of the incident and the clarification of relations, the "liberator of Donbass" several times got a face, after which he "stepped back in an organized way" and started drinking alcohol.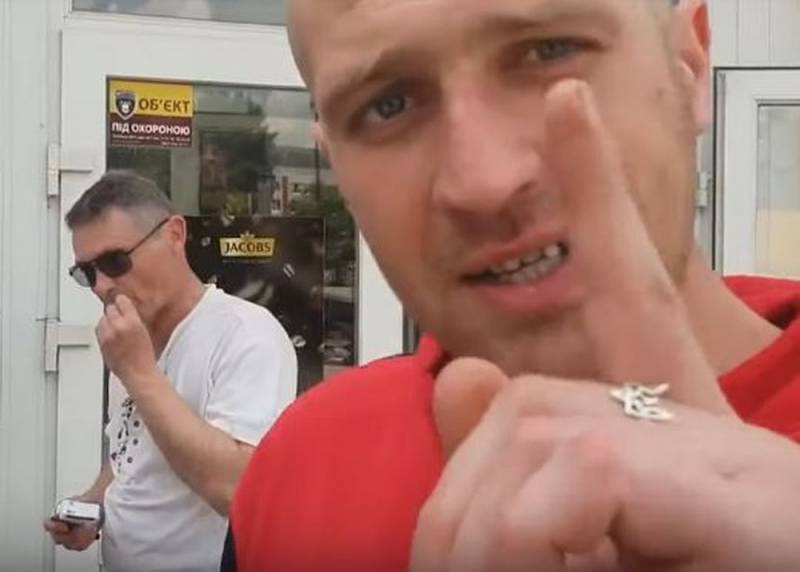 In fact, the "ATO hero" himself provoked the incident, who asked the blogger what he was doing at the moment when "the twin brothers were hung over after yesterday." The blogger explained what he was doing and drew attention to the ring, in the form of the Ukrainian coat of arms, on the finger of the "hero of the ATO".
Are you a patriot?
- the blogger asked.
"The hero of the ATO" explained that he had fought with Russia in the Donbass since 2014, without specifying when he was demobilized.
Russia is not at war with us
- objected the blogger.
After that, the "hero of the ATO" said that since the blogger was not in the Donbass, he "plays a point." The blogger replied that he could transfer the camera to another person, after which he and the "hero of the ATO" would find out among themselves who was "playing a point".
"The hero of the ATO" accepted the proposal with understanding and decided to deal with the blogger as a man. However, the blogger was not dystrophic and several times thoroughly hit the "hero of the ATO" in the face. After that, the "liberator of Donbass" fled to the nearest store.
The reaction of the Ukrainian "patriotic" public and law enforcement agencies to this incident is still unknown. But, we hope that the blogger will continue to make reports on the life of the Ukrainian outback.