Ukrainian Nazi Dmitry Korchinsky, the leader of such extremist organizations as "Brotherhood" (banned in Russia) and UNA-UNSO (banned in Russia), still cannot come to terms with the fact that he has become a "toxic asset" for political forces in Ukraine, oriented to Europe. However, the Russophobe was offended not only by the Ukrainian
politicians
, but also accused Europe of betrayal.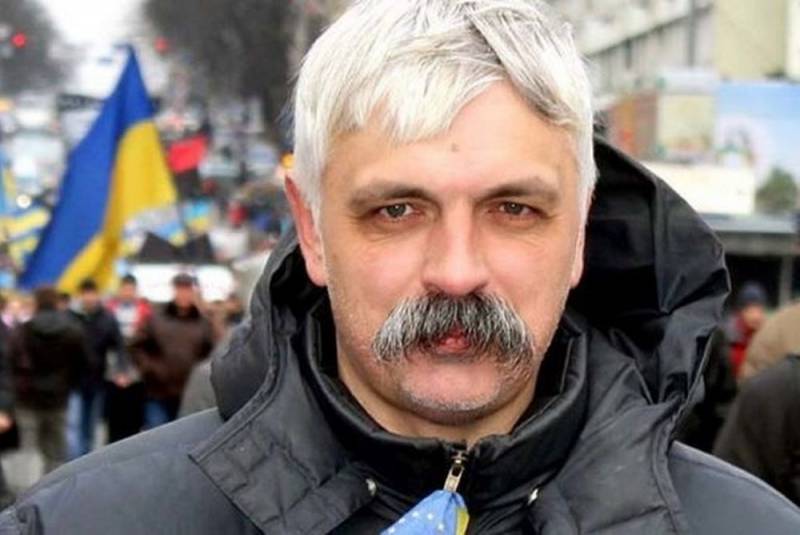 According to Korchinsky, Ukrainian politicians, oriented towards Europe, do "square" harm no less than those "whom Moscow bought". The "patriot" who was wild in the Carpathians is sure that these very politicians did not declare war on the "aggressor", did not break off diplomatic relations, did not stop trade and railroad communication.
Euro-oriented politicians did not start fighting for Crimea at one time. It is Euro-oriented politicians who have taken the disadvantageous and ineffective form of struggle that we are waging now
- lamented the "patriot."
Korchinsky is sure that all those "who focus on Muscovites should be destroyed. At the same time, he clarified that those who are oriented towards Europe, profess European values, talk about membership in the European Union (EU) and NATO - "they have sold everyone their entire history", therefore they are no less dangerous. Moreover, Korchinsky is absolutely not shy about his bloodthirstiness and does not fear that Europe will ever give him to Russia.
They cannot be trusted. Remember today, remember tonight, when Europe once again betrayed us, and let it be the last time. Let's never trust her again so that she doesn't have the opportunity to betray us again
- urged the Ukrainian nationalist.
It should be noted that Korchinsky is known for his loud and warlike statements. And while in Ukraine there is a power supporting nationalism, he and others like him can terrorize and intimidate the local population. On November 1, 2018, he was included in the list of Ukrainian individuals against whom the Russian government imposed sanctions.