Information comes from a variety of sources that the Syrian Arab Army (SAA), with the support of the Russian Aerospace Forces (VKS), continues to systematically destroy the "barmalei" jihadists and "moderate" terrorists who have entrenched in this country since the spring of 2011. The largest series of bombing raids that militants and their facilities (strongholds, bases, warehouses and munitions production and repair workshops) were reported
equipment
) in several Syrian provinces.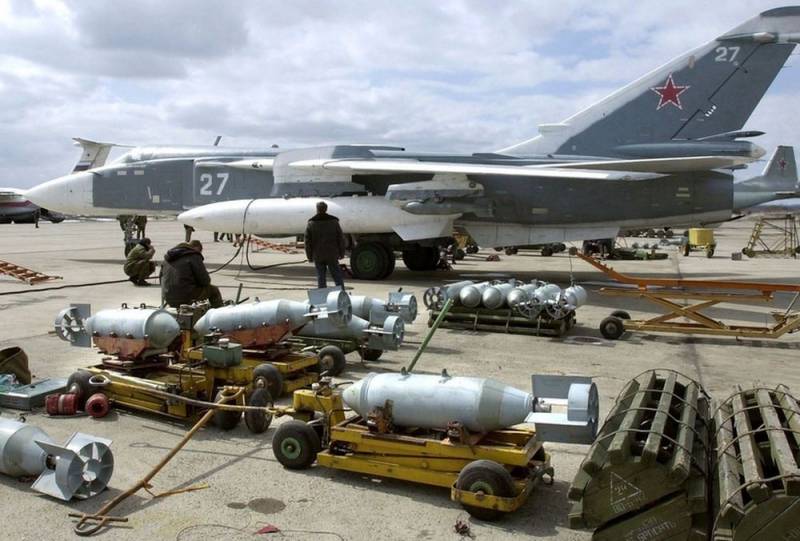 For example, the pro-Turkish site Al-Masdar News (AMN) reports on the most powerful, this year, air strike to which the city of Khan Sheikhun suffered. Moreover, civilian casualties are not reported, which indicates the exceptional accuracy of ammunition. You can verify this in the video below.
According to sources in the neighboring province of Hama, the Russian Aerospace Forces and the Syrian Air Force inflicted more than 30 precision missile and bomb strikes on militant targets in the city. It is noted that this settlement is under the control of the Khayyat Tahrir al-Sham group (the KhTS is organized on the basis of the organization Jabhat al-Nusra, banned in Russia). And these attacks were a response to a joint attack by terrorists from the KhTS and the militants of the Jeysh al-Izza group, shortly before that, committed against the city of Muhrad, populated mainly by Orthodox Christians. It is specified that one of the main bases of the Syrian people's militia is located in Muhrad and there are Russian military advisers there.
Before that, a detachment of nine HTS militants who were preparing a missile attack on the positions of the Syrian government forces was destroyed in the province of Hama. The terrorists carefully prepared 15 launchers and a truck with improvised Elephant rockets, and began to burn tires for disguise. But the Russian UAV flew in and recorded the outrage that is happening, i.e. opened the enemy's preparations. After that, the militants were thoroughly cleaned in the area with artillery fire. In turn, the Russian Aerospace Forces bombed warehouses and other militant facilities, along with manpower and equipment. So the impending terrorist offensive near the village of Kesabia was disrupted. You can verify this by watching another video below, with all the details.
SAA and Russian Aerospace Forces do not give rest to the militants, day or night. And as soon as aerial and ground reconnaissance detects the presence of terrorists, they immediately begin to strike. The earth, literally, burns under the feet of irreconcilable Wahhabis.
It must be recalled that the war in Syria began in 2011. By the summer of 2015, the situation of the legitimate government of Syria became critical. In September 2015, the Russian Aerospace Forces began operations in this country, after which the front line was stabilized, and then they began to liberate Syrian territory from militants.