Recently we
Reported
as the general director of the Georgian Rustavi-2 television channel Nika (Nikoloz) Gvaramiya said that the company would not dismiss journalist George Gubaniya, who had offended Russian President Vladimir Putin, his late parents and "slaves" on the air of the author's PS program. Guaramia then stated that the goal was "legitimate", the rating increased, and if someone doesn't like something, he can simply switch the channel.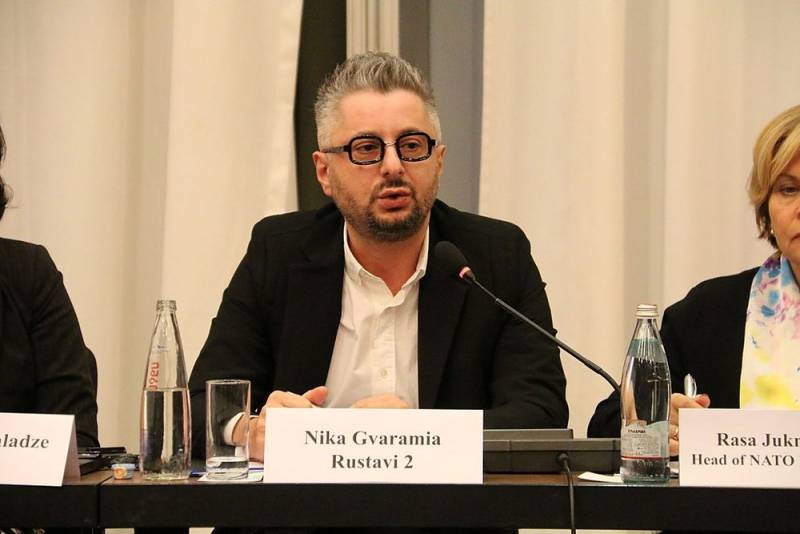 It should be noted that Gvamaria is a close person of the former President of Georgia Mikheil Saakashvili. He is the godfather of one of Saakashvili's sons. Born in Sukhumi, a nationalist, he was the Minister of Justice and the Minister of Science and Education of Georgia, a member of the club "What? Where? When?".
So, as the correspondent of the newspaper reports
"Sight"
Rustavi-2 live from Tbilisi, Guamaria, stated that it was ready to urinate in wine and Borjomi (mineral water) as revenge on producers who exported this valuable product from Georgia to Russia.
And to hell with these Borjomi and with wine! Now we have to say that Putin is good for someone to import Borjomi, wine and Nabeglavi (mineral water - ed.) Into Russia? Yes, I peed at it all! I do not care! Are we a country or a retail facility?
- shouted Guamaria in the studio.
After this statement, Guaramia called on manufacturers to "sell in Ukraine."
What do you rape (using an obscene expression - ed.) Our people? We (Rustavi-2 - ed.) Were forbidden to freely express our thoughts so that your Borjomi would only be freely sold in Russia.
- he continued to scream, while the co-host tried to calm the "patriot" who was raging to insanity.
The above-described "patriotism" of Guamaria provoked a violent reaction among the inhabitants of Georgia. Users of social networks point out that Guamaria receives a large salary, and thousands of ordinary citizens engaged in grape growing, wine and mineral water production receive very modest salaries. And it turns out that the "patriot" Guamaria decided to deprive them of their livelihood. Therefore, users appealed to manufacturers to refuse advertising on the Rustavi-2 TV channel. According to users, the export of Georgian wine and mineral water to Russia is not a betrayal, but is beneficial to Georgia and its inhabitants.
In addition, users recalled that 800 Georgian citizens work on the territory of Russia, who make monthly transfers to their families. All these people are not traitors either, since Gwamaria and similar fingers weren't hit in order to create jobs in their country and return all these labor migrants to their historical homeland. At the same time, Guamaria itself cannot be considered a "barometer" of patriotism. Some even recalled to Guamaria that he is a sexual partner of the TV presenter Gabunia, who insulted the president of Russia.