WIG "Seagull", a project which was developed in the Central Design Bureau named. Alekseeva (Nizhny Novgorod), can become a versatile vehicle that moves both in screen mode (on a dynamic air cushion) and in the air (like an airplane). About this agency
RIA News
the day before the director of the design bureau Georgy Antsev said.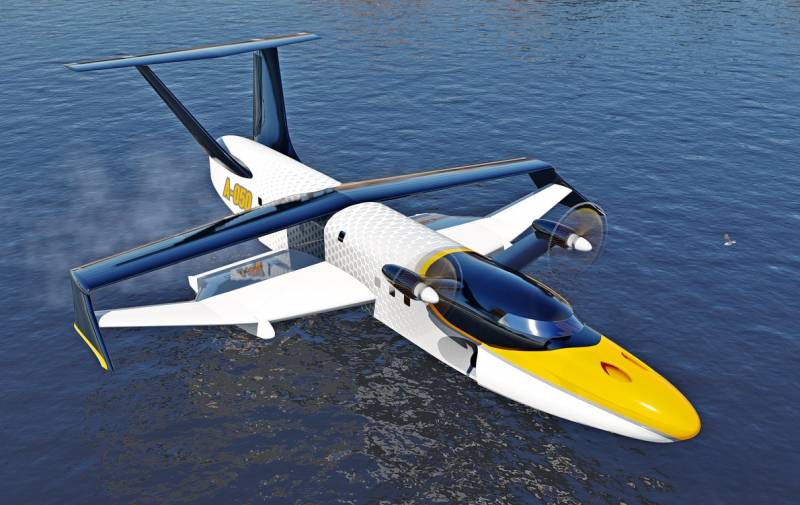 The functionary noted that the device will be able to be based on water, shores with a slight slope, and even at airfields. To get to the latter, the "Seagull" just exit the screen mode and make a flight to the place of deployment by air. The maximum flight range, according to the designers, will be up to 3 thousand km.
All this makes the device universal and allows you to use it in a wide variety of missions. For example, to develop the Arctic (ekranoplan is more resistant to weather conditions than a helicopter), patrol water harbors, transport specialists to offshore fields and conduct rescue operations.
To exit the screen mode, "The Seagull", made according to the scheme of the ring plan, will use the upper wing. At the same time, as designers say, the flight mode can be used not only for redeployment, but also to overcome obstacles. To this end, the ekranoplan will be equipped with a synthetic vision system, which is currently being tested by the Radar Mms Scientific-Production Enterprise.
The weight of the brainchild of the Central Clinical Hospital named after Alekseeva is 54 tons. Of these, 15 tons are payload. According to Antsev, the apparatus can be "understaffed" for landing at aerodromes, and a boat can be placed in the cargo compartment, which is useful for rescue or search operations.
As for the mass production of the universal ekranoplan, the director of the Central Design Bureau stated that the device will appear in hardware only after all issues with financing have been resolved. In the meantime, the developer plans to test the semi-natural model using various parameters of the route (time of day, start and end point, weather conditions).