Recently we
Reported
as the state corporation Rostec agreed with the state-owned Aeroflot to sell the airline an additional 35 medium-range airliners Irkut MS-21 ("7st Century Mainline Aircraft"). And so, on July 2019, 21, Deputy Prime Minister Yuri Borisov announced that the Irkutsk Aviation Plant (a branch of Irkut Corporation PJSC) is creating two more experimental MC-14 aircraft, one of which will use Russian PD-XNUMX engines.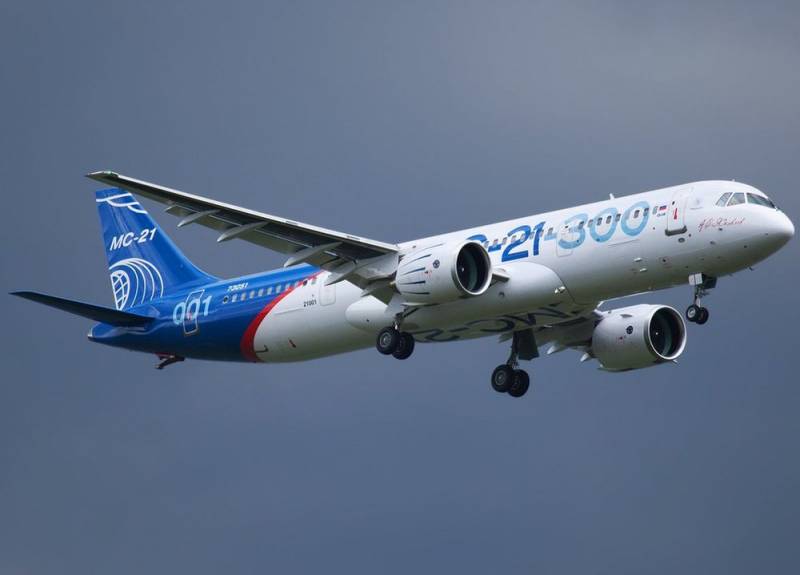 Borisov said this at a meeting on the implementation of the production program of the Irkutsk Aviation Plant. At the same time, he clarified that the start of mass production of MS-21 and the first deliveries of aircraft to customers are planned for 2021.
Two more experimental vehicles are under construction, one of which is intended for flight tests with the Russian PD-14 engine. Active work is underway to prepare the mass production of MS-21.
said Borisov, opening the meeting.
Borisov noted that three MS-21 aircraft have already been built for flight tests and one for static tests at the Central Aerohydrodynamic Institute (TsAGI). At the same time, the fourth flight test aircraft is at the final assembly stage.
Borisov said that the portfolio of firm orders for the MS-21 is 175 aircraft. He drew attention to the difficulties of the MS-21 program, because these aircraft are much more difficult to develop than previous generations of aircraft.
During its implementation, Russian enterprises entered a new
technological
level, a generation of specialists who are able to work in a modern digital environment has grown, the scientific and production base has developed
- summed up Borisov.
It should be added that in March 2019, Borisov already said that the mass production of the MS-21 will begin in 2021. After which, in April 2019, the United Aircraft Corporation (UAC)
requested
to the government with a request to allocate an additional 39 billion rubles. for the MS-21 project.
We remind you that it is planned to produce several versions of the aircraft: MS-21-200 (from 132 to 165 seats), MS-21-300 (from 163 to 211 seats) and MS-21-400 (up to 250 seats).